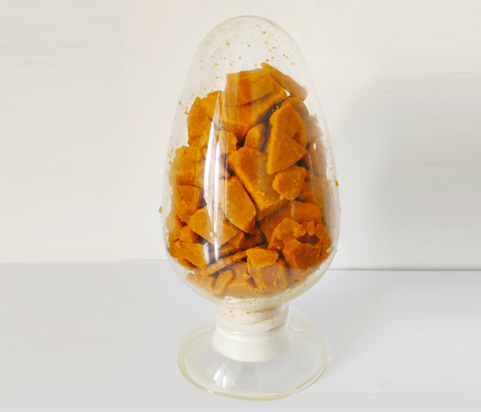 Molecular formula: FeCl3•6H2O
This product is yellowish brown crystal or solid block, odorless, astringent taste. Melting point 37 degrees. Boiling point 280-285 degrees. Soluble in water, soluble in ethanol, ether. The solution is acidic. Coagulate proteins. It is delirious and can be delirious to a reddish brown liquid in the air.
To use:
1. Water treatment industry as a water purifier for drinking water; The treatment and purification of waste water precipitant;
2. Used as oxidant and mordant in dyeing and dyeing of indigo dye in printing and dyeing industry;
3. Organic synthesis dichloroethane industry as a catalyst for production;
4. Raw materials for the manufacture of iron salts, medicines, pigments and inks.
5. Etchant for photographic and printing plate making; Used as analytical reagent and thin layer chromogenic agent;
6. Used for the production of electronic industry circuit board and fluorescent digital tube.
7. building concrete infiltration can increase the strength of the building, corrosion resistance and prevent water seepage.
8. Coagulant when glycerin is recovered from soap waste liquid.
9. chlor-alkali enterprise primary brine preparation.

Technical standards:
Product name

Iron(III) chloride hexahydrate

Model

Solid

testing item

chemical pure index

testing result

1

appearance

-

yellow blocky solid

2

content(FeCl3·6H2O),%

≥98.0

99.9

3

water insoluble substance,%

≤0.05

0.03

4

free acid (in HCl),%

≤0.1

0.13

5

sulfate (SO4),%

≤0.03

0.01

6

nitrate (NO3),%

≤0.03

0.01

7

phosphate (PO4),%

≤0.03

0.007

8

arsenic (As) ,%

≤0.01

0.0014

9

sodium (Na),%

≤0.05

0.017

10

magnesium (Mg),%

≤0.005

0.0005

11

potassium (K),%

≤0.005

0.0005

12

calcium (Ca),%

-

-

13

manganese (Mn),%

-

0.013

14

ferrous (Fe),%

≤0.005

0.006

15

copper (Cu),%

≤0.01

0.004

16

zinc (Zn),%

≤0.01

0.0027

17

in sulfate, %

≤0.5

0.12

18

heavy metal (Pb),%

-

0.0026

结 论:

Product packaging:
25kg carton packed in 2 layers of PVC plastic bags
50kg plastic drum is covered with 1 layer of PVC plastic bag
25 kg cardboard barrel inside a layer of PVC plastic bags